Rumour
A video of former cricketer of the Indian team Irfan Pathan is going viral on social media in which he is seen waving hands in a red-colored open car and greeting people. Along with the video, it has been claimed that Irfan Pathan reached Shaheen Bagh among the people protesting against the Citizenship Amendment Act.
A Facebook page name Shabnam shared a video using the caption "Another Lion has come to Shaheen Bagh, the name is Irfan Pathan".
You can watch the video here:
Our Investigation
In the investigation, we found that the video of Irfan Pathan's is from Kolkata and not Shaheen Bagh.
Irfan Pathan had tweeted a video on his Twitter handle on January 14, 2020. In the video, Irfan is seen surrounded by his fans from all around. However, this video is made by Irfan himself, so its angle is different. Irfan Pathan wrote the caption with this video, 'I will never know what retirement is. Thank you all the love.'
On searching keywords related to Irfan's Kolkata tour we find an article of India Blooms. According to the article, Irfan Pathan was honored for his contribution to cricket on 14 January 2020 in Kamarhati, Kolkata and the former West Bengal Sports Minister Madan Mitra honored him for his contribution to Indian cricket.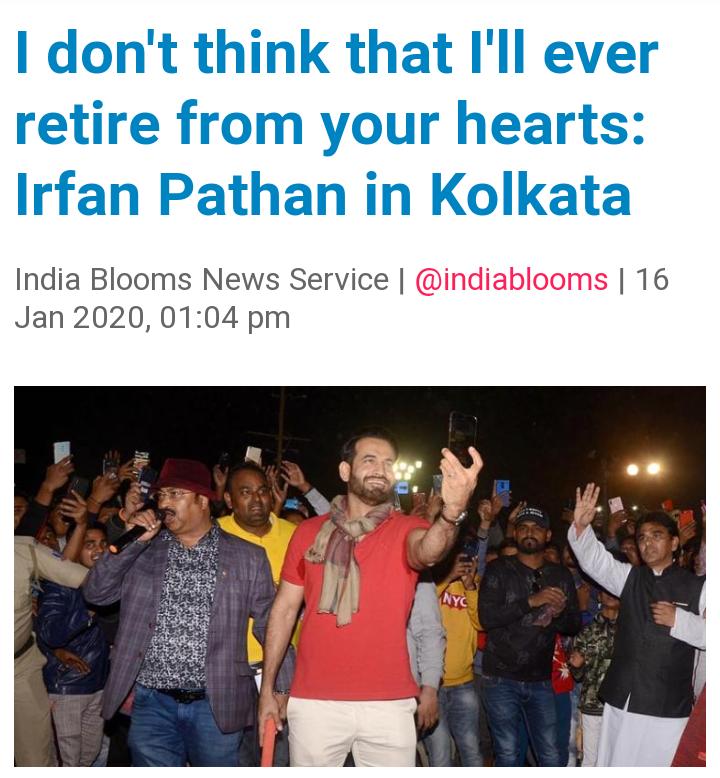 Madan Mitra himself also shared the pictures on his official Twitter handle.
Irfan Pathan is wearing the same red T-shirt and scarf in both the videos and pictures shared by Madan Mitra which shows that the viral video is from the same incident.
However, we could not find any reliable news report mentioning Irfan Pathan reaching Shahin Bagh or supporting those protesting against the Citizenship Amendment Act.
Fact
The viral claim is false that Irfan Pathan reached the Shaheen Bagh to support people protesting against the CAA. In our investigation, we found that the viral video is not of Shaheen Bagh, but of Kolkata's Kamarhati.