Prime Minister Narendra Modi has called for the self-imposed Janta curfew on March 22 from 7 am to 9 pm amid coronavirus outbreak. Meanwhile, on social media, a notice in the name of Delhi Police is becoming viral claiming that Delhi Police is going to impose a fine of Rs 11,000 on 22 March to people who will unnecessarily roam outside their house.
A Facebook user name Pooja Chan shared the notice in her Facebook account. The viral message reads,
"Information for people given by Delhi Police. On 22-03-2020, if any person found roaming in Delhi without any major reason, opening shop, going out of Delhi then such people will be fined Rs 11000 because even one person can spread the infection to people. On 22-03-2020, all Indians should cooperate together.
Thank you.
Delhi Police. "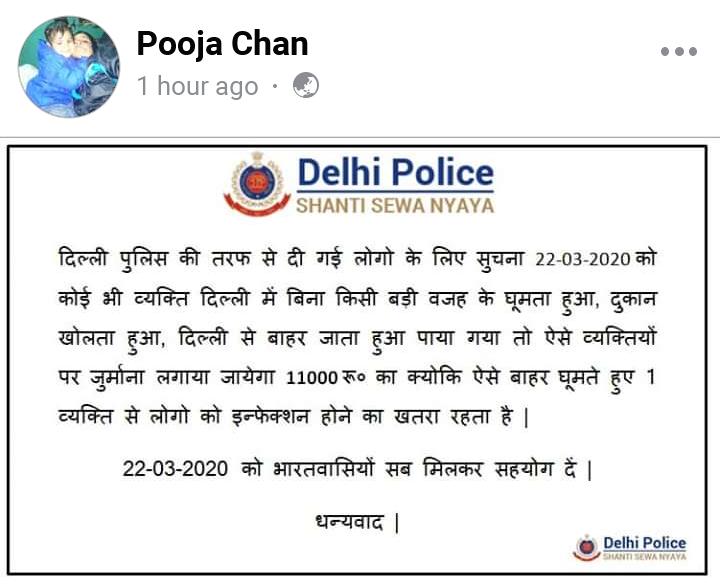 Fact Check
In the investigation, we found that the viral notice is fake. Delhi Police has not issued any such instruction. Delhi Police themselves have denied this claim on their official Twitter handle.
DCP South Delhi tweeted on his official twitter account that the notice is fake and they haven't issued any such advisory. The tweet reads "We have spotted this fake notice being circulated purportedly issued by Delhi Police. We have NOT issued any such advisory on the imposition of a fine on March 22. Please tell your family and friends that this is FALSE & FAKE".
However, the Delhi Police has appealed to the people to stay at home. The police have also said that people should not gather at any place till March 31 for protests, rally or any other activity.
In conclusion, we found that the viral claim is false. Delhi Police has not issued any notice like imposing penalty of Rs 11,000 on those who do not comply with the Janata curfew on March 22. This advisory is fake.