Rumour
In the wake of anti-Citizenship Amendment Protest, a video is going viral on social media showing police brutality in Assam. In this video of about 2 minutes 26 seconds, the police are seen doing Lathi-charge at the protesters. It is being claimed that the video is from Assam, where the National Register of Citizens (NRC) has been implemented. You can watch the video here:
A Facebook user name Sayed Samad shared the video with a caption "NCR implemented in Assam, people are picked up from homes, the media will not show it to you, because they have been sold now, and it is your responsibility to share this video as much as possible."
The same video is also getting viral on Twitter with the same Caption.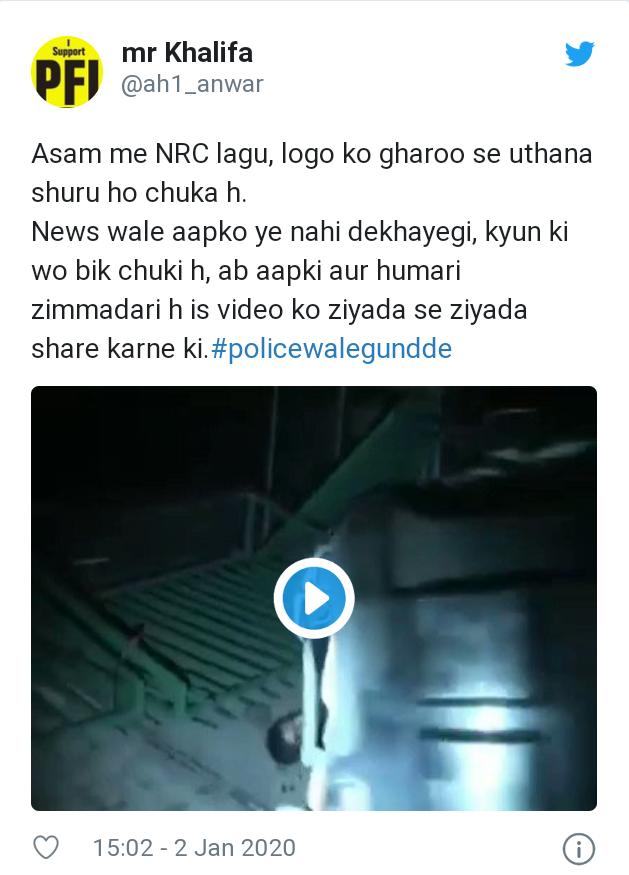 Our Investigation
In the investigation, we found that the viral video is not from Assam but from Dhaka in Bangladesh and is about 7 years old. To find the truth of the claim being made with the video, we watched it carefully and we saw "RAB" written on the shield held by a policeman. In the video, you can see it at 1:36 minutes.
When we searched it with the help of Google search, we found that Rapid Action Battalion (RAB) is the Anti-Crime and Anti-Terrorism Unit of Bangladesh Police.
We use the keyframes of the video and did a reverse search and found that this video is from Dhaka in Bangladesh. We found a video shared by a youtube page name hokkotha .com, which captioned: "Police Raid at Hifajat-e-Islam Rally".
In the above video, a person's body appears on the stairs at 7 minutes 10 seconds, the same visuals are matched with the viral video. You see the comparison of both the video here.
When we searched on the internet by using the keyword "Police raid at Hefazat-e-Islam rally", we got a media report of News18 which was published on 6th May 2013. According to the report, there was a clash between protesters and police in Dhaka. The group of madrasa teachers and students, Hifazat-e-Islam, protested for the demand of stringent blasphemy laws. According to a police spokesman, a combined force of some 10,000 riot police, elite anti-crime Rapid Action Battalion (RAB) and paramilitary Border Guard Bangladesh (BGB) troops carried out the operation.
Fact
The viral video claiming police atrocities on people protesting against NRC in Assam is actually from Dhaka in Bangladesh and is around seven years old. The video has nothing to do with Assam or NRC.