Rumour
In Maharashtra, BJP's coalition partner 'Republican Party of India' (RPI) had given a ticket to underworld don Chhota Rajan's brother Deepak Nikalje on October 3 from Phaltan Assembly constituency in Western Maharashtra for the upcoming assembly elections. Since then, an old picture of Prime Minister Narendra Modi with underworld don Chhota Rajan is being shared on social media. Maharashtra Chief Minister Devendra Fadnavis is also there in the viral picture.
The picture was shared by a Facebook user Vijay Akshit.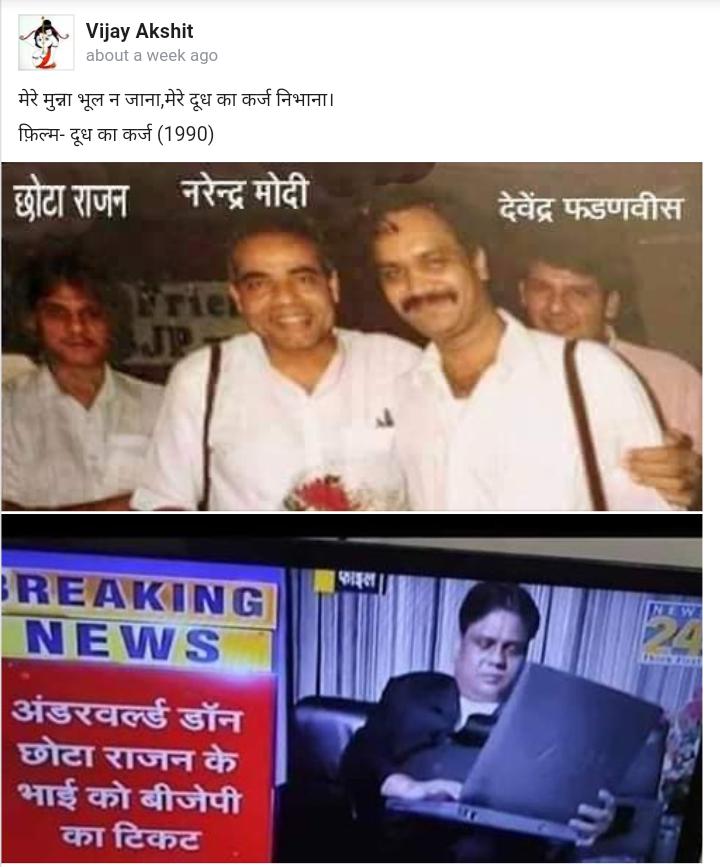 Our Investigation
To find out the truth of the viral picture, we searched it with the help of a reverse image search on Google and found that the picture getting viral has been prepared with the help of a photo editing tool.
We found the picture in an article in the Times of India. According to the caption of the photo, the man on Modi's left side is a BJP worker and Modi's old partner Suresh Jani. In 1993, Suresh Jani arrived at JFK Airpot to welcome Modi during one of his visits to the US.
After comparing both the real and viral picture, it can be seen that apart from the face of the person, the picture of the rest of the body is exactly the same.
With the help of a photo editing tool, the person's face has been replaced by Chhota Rajan's face.
We also found a report published by Rediff on 26 September 2014 in which the same picture has been used.
Suresh Jani said, "I had gone to the airport to receive Modi when he first arrived in America in 1993. He then came in 1997 and once in 2000. During his first visit, Modi traveled along the east and west coasts to Boston and Chicago. He then stayed at Jani's house for four days.
Jani says, "He brought two bags and a small one. He was wearing a simple kurta and an HMT watch".
Fact
The picture of underworld don Chhota Rajan, which went viral with Prime Minister Narendra Modi is Photoshopped. The original picture is from Narendra Modi's visit to America in 1993, in which he is seen with his old colleague Suresh Jani.