Rumour
A video has been widely shared on social media with a claim that the students of Madarsa in Mandsaur in Madhya Pradesh raised slogans in support of Pakistan. Many social media users have posted the video while writing that these students belonged to Anjuman School and were shouting "Pakistan Zindabad".
The video was brought to our notice by one of our readers on Facebook.
A Twitter user Roop Darak tweeted the video with a caption, "Anti-nationals have reached Mandsaur and you stay at home. Pakistan Zindabad, Hindustan Murdabad, and Hindustan is a thief slogan were raised as soon as they came out of Anjuman school in Mandsaur. I believe that the slogans were raised with the help of police and state government."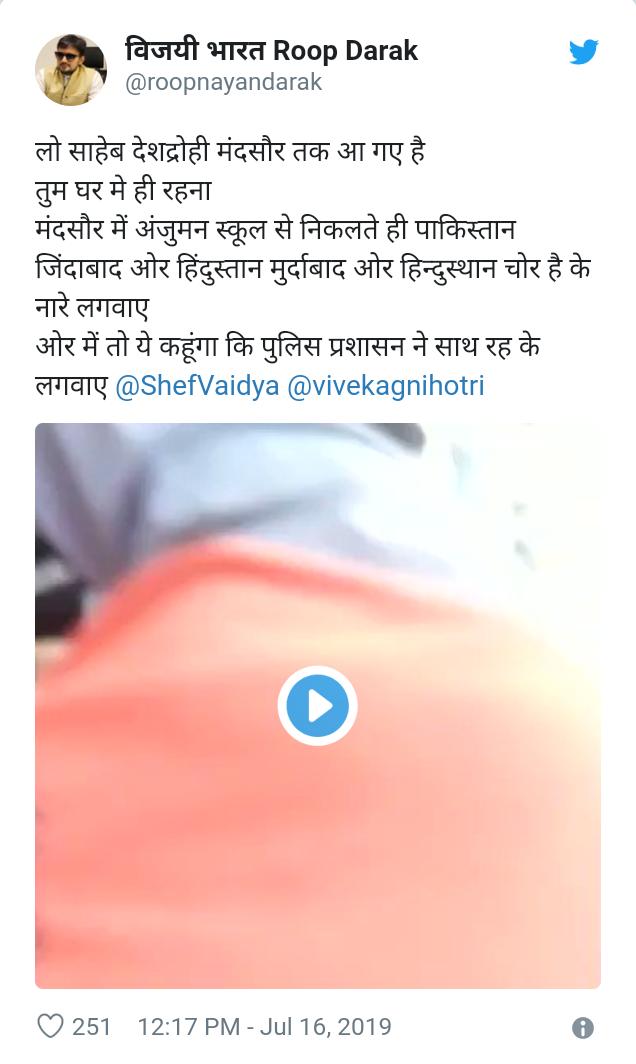 The same video is also getting viral on Facebook. A user name Abhishek Maharaj posted a video with a claim that "Children in Mandsaur chanting 'Pakistan Zindabad' in front of local police. While Richa Bharti is penalized for her face Boo Post, why law and administration get paralyzed to act against minorities?"
Our Investigation
When searching on Google related keywords, we found some media reports in which these students are performing in support of their school principal. Those people are not calling 'Pakistan Zindabad' but the slogan of their teacher's name - 'Sabir Sir Zindabad'.
Mandsaur CSP Narendra Solanki made a statement through a video, "The children thought that their teacher is being taken away from them so they raised slogans of 'Sabir Sir Zindabad.
Police performed a forensic analysis of the video, watched it in slow motion and found that they were raising 'Sabir sir zindabad' slogans.
Fact
The claim the students of Madarsa in Mandsaur, Madhya Pradesh raised slogans of "Pakistan Zindabad" is false. Kids were actually raising slogans of Saabir Sir Zindabad. Mandsaur police have also denied the viral claim.
Last year, another video went viral with the claim that Congress workers were shouting "Pakistan Zindabad". However, they were actually shouting in support of the local Congress candidate Narayan Singh Bhati by raising the slogan "Bhati Saheb Zindabad" which may sound similar to Pakistan Zindabad.
No, Congress workers were not raising the slogan of Pakistan Zindabad in Rajsamand