Jeremy McLellan, an American comedian tweeted a video from his verified Twitter handle in which Pakistan's national anthem can be heard. On the right side of the video, Naples, Italy is written. The tweet reads, "This is so beautiful. A whole neighborhood in Italy sings the Pakistani National Anthem while they're on lockdown".
The viral video received 8900 likes 2700 retweets and 110,400 views at the time of writing this article.
You can watch the viral video here:
Since Jeremy McLellan is a comedian, it is possible that the tweet was a sarcastic one. However, Pakistani news website bolnews.com has published the news based on Jeremy McLellan tweet with a headline "Pakistani National Anthem in Italy amid COVID 19 lockdown". According to the article people in their homes are singing the national anthem of Pakistan together due to coronavirus in Italy.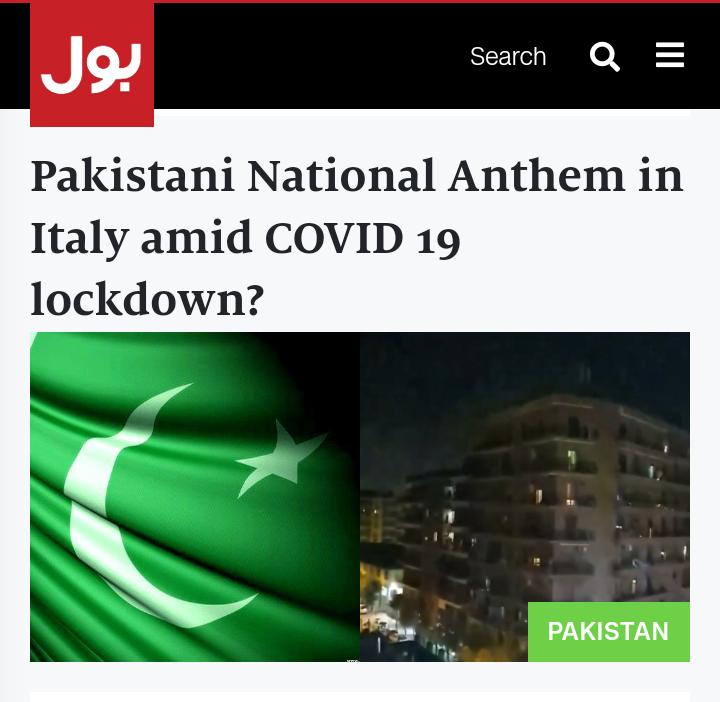 Several users on Facebook have started sharing the video with the same claim.

Fact Check
In the investigation, we found that in the viral video, they are not singing the Pakistani national anthem. In real they are chanting "don't give up" from their balconies to encourage each other.
We found the video on youtube published by verified channel CBS News on March 13, 2020 , which is exactly the same video that Jeremy shared. The video was titled, 'Quarantined Italians sing together from balconies'.
According to the information accompanying the video, Quarantined in their homes due to the coronavirus outbreak, people in Naples, Italy, sang together and chanted "don't give up" from their balconies, filling the empty streets with joyful noise. Similar scenes were captured across Italy, as the entire country of 60 million people remains in lockdown.
In conclusion, people are not chanting the Pakistani national anthem from their balconies in Naples, Italy. They are chanting "don't give up".