Shiv Sena chief Uddhav Thackeray took oath on Thursday as the 18th chief minister of Maharashtra along with 6 leaders of the Cong-Sena-NCP alliance after a month-long political drama.
A picture of Uddhav Thackeray is getting viral on social media in which he is seen bowing in front of Sonia Gandhi's photo and bust. The picture of Sonia Gandhi is placed on a bed, behind which a bust of a women is seen on the table.
A Facebook user name Karnik Upadhyay shared the picture with a caption "I was wondering whether Uddhav will take oath in saffron clothes… or in a netted hat (skull cap)? Because the symptoms are visible with the same mesh cap!" ( Roughly translated from Hindi).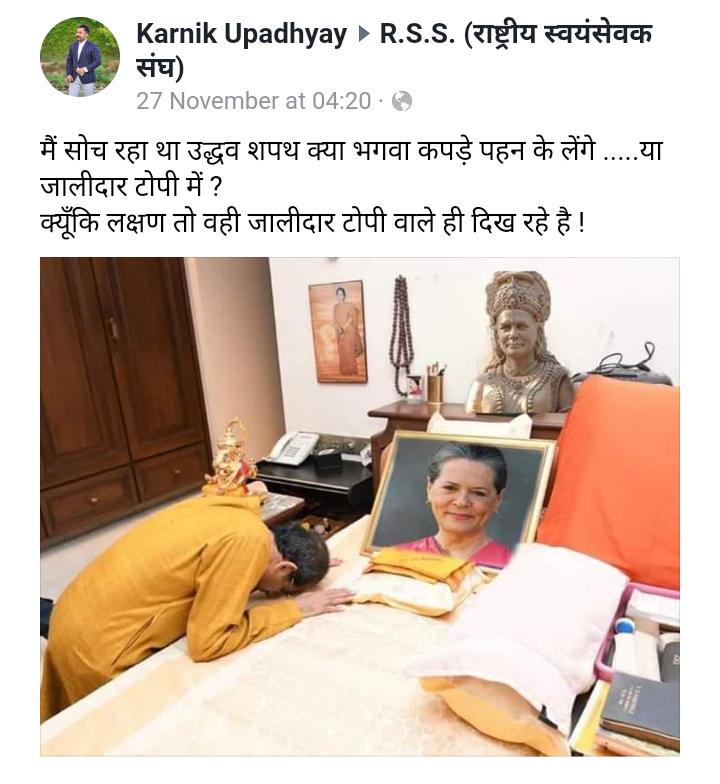 In the investigation, we found that that the viral picture of Uddhav Thackeray is fake. In the real picture, Uddhav Thackeray is bowing in front of his father and Shiv Sena founder Bala Saheb Thackeray's picture. In the viral picture, the idol placed on the table has also been replaced with the help of photo editing tools.
The original picture was shared by Uddhav Thackeray himself on his official Twitter handle on November 26.
In the original picture, instead of Sonia Gandhi's photo, there is a photo of Bala Saheb. At the same time, instead of the statue of the woman on the table, a statue of Bala Saheb has been kept.
After comparing both the Original and Fake image it was clear that the viral claim is false.
The statue seen in the viral picture was erected by Andhra Pradesh Congress leader P Shankar Rao in 2014 at Mahbubnagar in Telangana. According to him, after the formation of separate Telangana state, he was building the temple of Sonia Gandhi, for which this idol was built. In this way he wanted to thank Sonia Gandhi for the formation of a new state.
In conclusion, the viral picture in which Uddhav Thackeray can be seen bowing down in front of Sonia Gandhi is fake. In the real picture, Uddhav Thackeray is bowing in front of Balasaheb Thackery's picture. The viral picture is prepared with the help of Photoshop.