A 35-year-old teacher Bandhu Prakash Pal, his pregnant wife Beauty and their eight-year-old son Angan were found lying dead in a pool of blood inside their house in the Jiaganj area of West Bengal's Murshidabad district on On October 8, 2019, when Durga Puja festivities were on.
Ever since the murder came to light, some BJP leaders attacked the Bengal government alleging that the deceased Bandhu Pal was an RSS worker and was killed because of his political links.
National Social Media Convener of BJP's Mahila Morcha Priti Gandhi tweeted "Hindu family brutally murdered in West Bengal for supporting RSS - Bandhu Prakash Pal (35), his 8-month pregnant wife & their eight-year-old son Angan hacked to death in their Murshidabad home. Paid a heavy price to stand for the ideology they believed in!".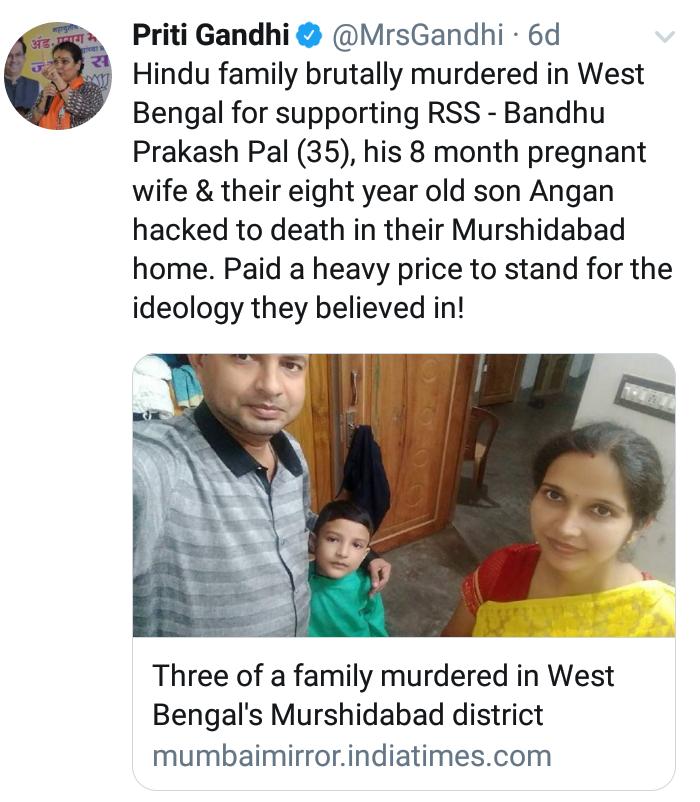 Member Of Parliament Arjun Singh tweet "This time TMC the goons killed Bandhu Prakash, his pregnant wife, and son. His crime is- being an RSS worker. The CM Mamta Banerjee who Shouted and threatened after hearing the slogans of Jai Shri Ram is silent on this? Bengal is moving towards Taliban rule"(Roughly translated from Hindi).
A Twitter user Dilip Biswasin tweeted, "A RSS Swayamsewak was killed along with his pregnant wife and 8 years old son in #Murshidabad. This family was lynched just because they were associated with @RSSorg and supporter of @BJP4India. @narendramodi Ji, we request u to take strong action"
Journalist Rohit Sardana tweeted, "Will the politics of Bengal be laid out with the blood of children? Your Bengal is red with blood again".
Many news organizations like DNA, Navbharat Times, Frontline, The Hindu, and Jansatta also published the news claiming that the victim was an RSS worker.
No political angle emerged as Prime accused arrested and confessed
As the Murshidabad triple murder incident is being shared in a political context, the West Bengal Police have put out a series of tweets insisting that it had nothing to do with politics.
According to the police, the accused identified as Utpal Behra, a resident of Sahapur Village paid money to Pal for two life insurance policies. In his statement to police, Behra said he asked Pal to give him Rs 48,000 as per their agreement once the scheme matured. However, despite repeated reminders, Pal ignored his requests. While Pal had given a receipt for the first policy, he did not give him the receipt for the second policy. For the last few weeks, Pal and Utpal Behra used to quarrel over this matter ."Pal had even insulted him, following which Behra decided to kill him", police said.
The triple murder took on political color as some of the BJP tweeted that Pal was an RSS worker and targetted the Mamata Banerjee government over the killings. The West Bengal Police tweets "Persistent and sincere investigation of the Jiaganj PS murder case of Murshidabad has resulted in a person confessing the crime and his arrest. He had financial transactions and animosity with the deceased person. Prayer of police custody is being made before the court..1/2"
Family members denied political affiliations
Family members of one of the victims, Bandhu Prakash Pal, denied that he had affiliation with any party. Bandhu's brother-in-law, Diptiman Sarkar said an RSS member offered him financial help after Bandhu's death. Sarkar said he, however, rejected the financial assistance and told him that his brother-in-law was never associated with any political party.
Bandhu's mother Maya Pal told, "He was not associated with any political party or organization".
According to a report, Bandu Prakash was a school teacher who worked in Gosaigram Sahapara Primary school. He also worked as an insurance agent in the area.
In conclusion, the viral claim is false that Bandhu Prakash Pal, a deceased in Murshidabad triple murder is affiliated to RSS and the murder of his family is politically motivated. The West Bengal police have said that Prima Facie the case is of personal enmity and it has nothing to do with politics.