A complained has filed to the Enforcement Directorate against Maharashtra Chief Minister Devendra Fadnavis for allegedly using his position to help improve the business of a private bank by pushing the state's 2 Lakh police force to shift their salary accounts from nationalized banks to Axis bank where his wife holds a top corporate post.
Journalist Nikhil Wagle tweeted "Devendra Fadnavis Pushed Police To Open Accounts In Axis Bank, Where Wife Is VP, Alleges Petition"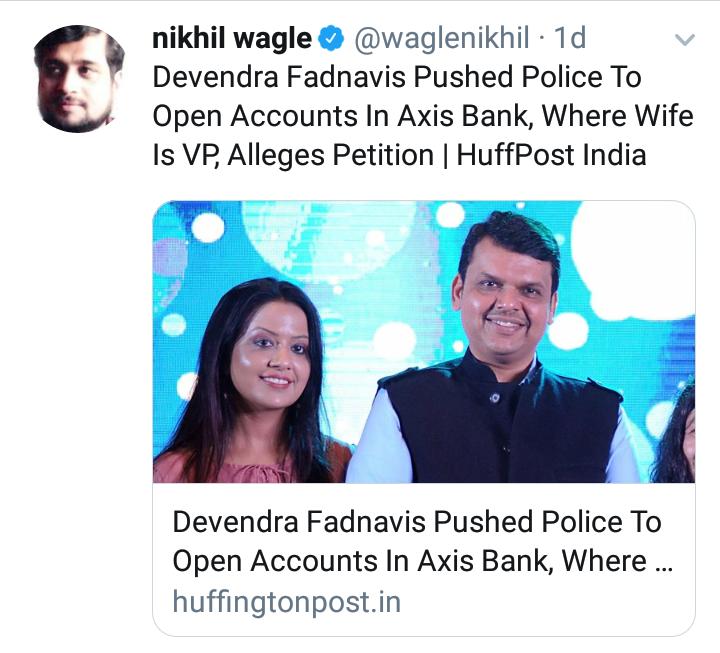 National SM Convenor of Congress party, Hasiba Amin tweeted, "CM Fadnavis misused his position to force police to open accounts in bank where wife is VP. 17 policemen confirmed that their superior officers directed them to shift their accounts from Nationalised banks to Axis Bank, citing "orders from above." Wah!".
Salary Account in Axis Bank since 2005
Both Wagle and Hasiba have tweeted an article by huffingtonpost.in in which it is reported that a social worker from Nagpur, Mohnish Jabalpure, has filed a complaint before the Enforcement Directorate and a petition before the Nagpur Bench of the Bombay High Court, accusing Maharashtra chief minister Devendra Fadnavis of "misusing his position" by pushing the state's 2 lakh strong police force to shift their salary accounts from nationalised banks to Axis Bank. Jabalpure's petition includes a May 11, 2017 circular, issued by the then Additional Director General of Police (Administration) Pradnya Sarvade, to buttress his allegation that the police unduly favoured Axis Bank.
If we go through the article, it is evident that this is just a view of an activist and may not be the ultimate truth.
In the investigation, we found that the Axis bank was handling the account of the police force since 2005. While Devendra Fadnavis become a chief minister in October 2014.
According to a report, a senior official of Mumbai Police said that Axis Bank was handling these accounts since 2005, much before Devendra Fadnavis became chief minister. The state government decided to disburse the salaries through nationalised and private banks in 2005, and UTI Bank was among the 16 banks selected for this purpose, he said. In 2007, UTI Bank changed its name to Axis Bank.
This is also verified by several independent media reports. According to a report dated June 2013, salary accounts of 15 police personnel in Axis Bank were hacked. This was when the Cheif Minister of Maharashtra was Prithviraj Chavan from India National Congress. So, it is clear that Axis bank was handling the account of Mumbai police much before Devendra Fadnavis became chief minister.
Changing Salary Account to Axis bank is not compulsory
Senior IPS officer K.Venkatesan, who was the police commissioner of Nagpur city in 2017, said the police rank and file were told about the benefits of switching to Axis Bank, but said there was no diktat for policemen to shift accounts; policemen in the state were simply given the option to avail of the supposedly superior benefits offered by Axis Bank.
"The benefits of Axis Bank were shown to all the people," Venkatesan said. "Not all of them have changed even today. There was and is no compulsion."
However, the petition claimed that even though the services of private banks including Axis Bank were being taken since 2005, a large number of policemen's bank accounts were shifted to Axis in and after 2017.
But Venkatesan insists that Axis Bank offered a better deal to the police force. He said, "Axis Bank was giving Rs.30 lakh accidental benefit but the SBI offer was nowhere comparable to that".
In his petition, however, Jabalpure said that if the police top brass had adopted a formal tendering process, they might have won more benefits.
Conclusion, the claim is false that Chief Minister Devendra Fadnavis helped Axis bank by transferring salary account of Maharasthra police. The salary account of Maharasthra police has been with the bank since 2005.