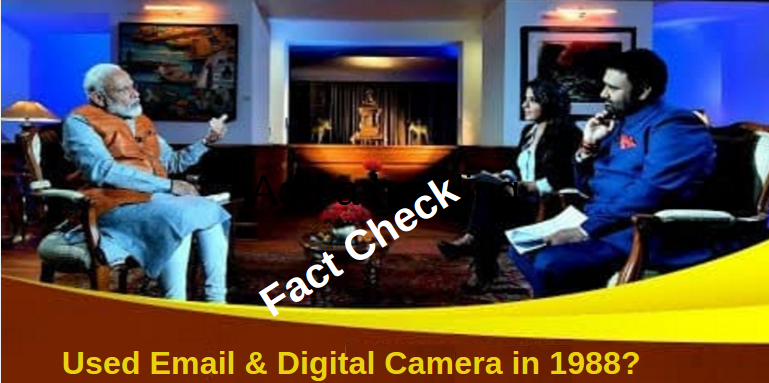 Summary
Contrary to what most of the media have reported, the digital camera and email existed in 1988. However, PM Modi couldn't have used email to send pictures since it was not supported in email back then. It is notable that PM Modi never directly claimed that he sent the pictures through email.
Several media houses like NDTV, Business Today, Hindustan Times, TOI, The Hindu, IndiaTimes reported that the prime minister Modi, in an interview to News Nation on 11th May, claimed that in 1987, at a public rally in Viramgam tehsil, about 60 kilometres from Ahmedabad, he used a digital camera to click a colour photograph of his mentor Lal Krishna Advani and sent it to New Delhi through email.
The Telegraph called it a joke on the educated supporters of BJP and PM Modi. The Quint called PM Modi an incredible liar.
Many people on social media have pointed out that that email facilities were not available in 1987-88 and started trolling PM Modi.
Ashok Swain tweeted "Modi claims that he had a digital camera in 1987-88 and an email account in 1988. He even sent a color photo as an email attachment within India in 1988 too. Modi suffers from serious illness and he needs proper medical care!"
Swati Chaturvedi tweeted "How did Modi have email in 1988? Did he invent email?"
Rupa Subramanya tweeted "In 1988, even in the developed west, email was available to a few academics and scientists but Modi somehow used it in 1988 in India before it was officially introduced to the rest of us in 1995. Even in the developed West (US, Canada), it would have been highly unusual for an average person to be sending an email as early as 1988."
PM Modi full statement
We were able to find the full interview of PM Modi. You can watch the relevant section at 59:10 minutes onward:
Here is what he said: "The first time I used a digital camera in 1987 or 1988… then a handful of people had email. At one of the public meetings of (LK) Advani Ji in Gujarat's Viramgam, I had a digital camera. I took a photo of Advani Ji and transmitted it to Delhi. He was surprised and said how did my colour photo appear today".
One must notice here that he has not directly said that he sent pictures through email. He said he transmitted the pictures to Delhi. Now, when we send pictures through email, we generally don't use the word transmitted.
Why did he say "a handful of people had email"?
There can be several interpretations of this sentence. For example, he might have wanted to say that a handful of people had email..so I transmitted the pictures instead of sending through email. Another can be a handful of people had email.. (I was one of them) and I transmitted those pictures to Delhi.
Now, it's a bit odd for someone to say transmitted through email instead of sending through email.
Our Observation: After watching the video, we feel PM Modi made a gaffe by saying only a handful of people had email. But later he realised it and instead of saying sending through mail, he said transmitted the pictures.
Also, he hesitated while saying the word "transmit" which further supports the theory of gaffe.
Was it possible to transmit pictures without Internet?
As per Gizmodo.com, news agencies from the early 1970s to early '90s were using an archaic machine, the UPI Model 16-S to transmit pictures. The machine slowly scanned a black and white photo spinning on a drum using a laser and then sent that analog data along, line-by-line, over phone lines that pre-dated high-speed fibre optics.
Scanning and sending a black and white photo took about eight or nine minutes, assuming you had a reliable phone connection. And when color models were later introduced, that jumped to a minimum of 26 minutes to transmit each image.
So, the technology to transmit the images were available in 1987-88. Hence, PM Modi's claim that he transmitted the photograph to Delhi can't be termed as false.
History of Email
According to Sugata Sanyal, former professor of computer science, Tata Institute of Fundamental Research (TIFR), Mumbai, in 1986, a dial-up link for email exchange was set up between NCST and IIT Bombay. Very soon all ERNET partners were on dial-up ERNET email and academics in these institutions started sending emails to all over the world.
The ERNET project was started by five IITs (Bombay, Delhi, Kanpur, Kharagpur and Madras), IISc (Bangalore), National Center for Software Technology (NCST) of Bombay and DoE for email services in the 80s as claimed by Ramani, the founding director of NCST. He further said that when there were no Internet service providers in the country, public or private, ERNET informally gave email facilities to software companies.
By 1991, the ERNET community crossed 1000 and hundreds of persons started using email in these sites, said De, adding that at that time, the initial investment to have ERNET mail was around Rs 30,000, without a printer.
By 1992, ERNET had grown big with universities in Bengaluru, who dialled in to use the networking service. It had become the country's first ISP. With VSNL (now Tata Communications), internet access to households was started in 1995, three years after India's academic institutions had full internet access through ERNET.
Even today ERNET India serves more than 1,300 institutions across the country, and apart from providing internet services, it also provides consultancy, project management, and services such as web hosting and e-mail.
Ref: FactorDaily.com, IndiaTimes
So, PM Modi's claim that a handful of people had an email in 1987 is not false.
Email Attachment
Back in 1987-88, the ERNET was still in its infancy and, was using the Unix-to-Unix-Copy Protocol (UUCP) which was later replaced by TCP/IP protocol. It was not possible to send images as an attachment.
The first photograph to be sent as an email attachment was in 1992. Borenstein, along with another researcher named Ned Freed, wrote MIME (Multipurpose Internet Mail Extensions) which enables internet attachment.
Conclusion: So, it is quite clear that PM Modi didn't send those pictures through email. However, we must say he never claimed to send those picture through email. He said "a very few people had email back then" which is true and then in the next sentence he said I transmitted pictures to Delhi. These two are two different sentences which have certainly be distorted by media to claim that PM Modi said he used email in 1987-88.
History of Digital Camera (First digital camera in 1987)
Steven Sasson invented the first self-contained digital camera at Eastman Kodak in 1975. However, this prototype camera was a technical exercise, not intended for production.
MegaVision's Tessera was the first digital camera offered for sale in 1987.
So, contrary to what most of the media have reported, the digital camera existed in 1987.
Nikon had also built a prototyped version of DSLR in 1986. It was called Nikon SVC, which had a 300,000-pixel sensor and saved images to a 2-inch floppy disk.
Having said that it is quite possible that PM Modi may have got confused between Digital and Analog (film) camera. In the 1980s, it was very common for a news agency to take pictures and transmit it using an archaic machine, the UPI Model 16-S. And he may have used the resource of any news agency to send the pictures taken from his camera.
As per our observation, it seems PM Modi might have used analog electronic cameras which reached the market in 1986 with the Canon RC-701. The early adopters of analog electronic cameras were news media, where the cost was negated by the utility and the ability to transmit images by telephone lines. The poor image quality was offset by the low resolution of newspaper graphics.
Conclusion: It was common for news agencies in the 1970s and 80s to take pictures and transmit it over telephone lines. Hence, PM Modi's claim can't be termed completely false.
---
Support Fact Hunt
We need your support to survive in the industry.
Leave a Comment:
Other Articles