On May 28, @harshasherni wrote in a Tweet: "Who knows that Mahatma Gandhi was once a Sergeant Major in the British Army and he also received two medals for his brilliant work in the British Army." (translated). The tweet also featured a group photograph, with Gandhi highlighted with a red circle, suggesting that this was a photograph of the army Gandhi served in.
The tweet ended with the statement "Savarkar was a patriot and a brave son of the country." (translated)
Fact Check
The Image
By doing an image reverse search of the group photo, relevant articles by Livemint and New Indian Express were found. The articles stated that the photo was of the 'passive resisters' football team in South Africa, in 1913. It is stated in the articles that Gandhi was a passionate footballer and saw merit in the game when it came to building teamwork and fighting racial discrimination. He started two football clubs, in Johannesburg and Pretoria, each named 'Passive Resisters' after his political ideology.
Gandhi's Time at the Army
During the 1889 Boer War and the Zulu War of 1906, Gandhi played an active part in the British army in South Africa. His view was that by helping the British with the war, he could show that Indians were legitimate citizens of the British empire. His participation was in the form of a Sergeant-Major of the Indian Ambulance Corps, a volunteer medic group he created out of Indians in South Africa. They did not have weapons training and therefore did not participate in the fighting, but knew basic first aid and carried stretchers.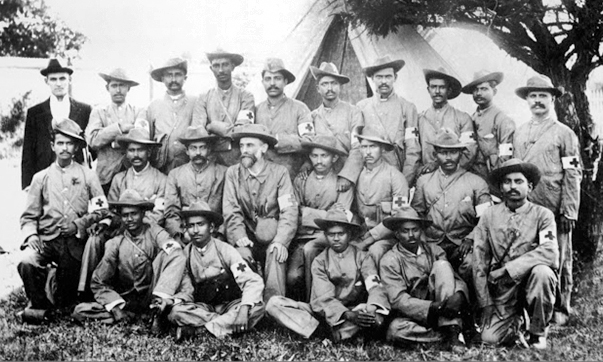 Gandhi and the Indian Ambulance Corps
For his service, he was awarded the Kaiser-i-Hind medal and title in January 1915 when he arrived in India. In reaction to the Jallianwala Bagh massacre in 1919, he renounced this title.
More about Gandhi's time in the army and its aftermath can be read here, here and here.
In conclusion, the group photo featuring Gandhi was of the 'passive resisters' soccer club in South Africa where Gandhi played, not from his time in the army. Furthermore, Gandhi was the Sergeant Major of an Indian volunteer medic team in South Africa during the Second Boer War in 1899 and the Zulu war in 1906. He gave up the medals he received after the Jallianwala Bagh Massacre.