A photo of the newly elected Australian PM Anthony Albanese went viral on social media with various misleading claims. A Hindi Facebook post claimed that Albanese was seen taking his oath as a newly elected PM wearing a saffron scarf with an 'Om' symbol on it. The post read: 'Fountain lovers, this is Australia's new Prime Minister Anthony Albanese who wore a saffron scarf with Om written over it while taking oath. He likes the true religion Sanatan dharma which believes in serving humanity. Now don't say this is a ploy of RSS and Modi'. (translated)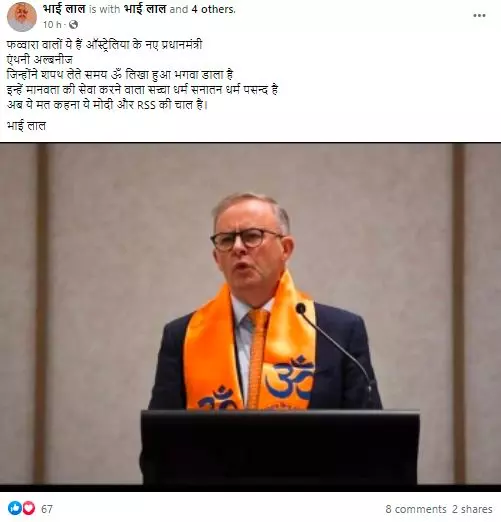 A Tweet by @GirxC claimed on May 22 that Albanese wore a saffron scarf after winning the federal elections in Australia.
@Krishna07VHP claimed on May 22 that the Australian PM has "joined Hindutva" by wearing a saffron scarf.
@_VijayThakkar on May 24 Tweeted the image with the hashtag #BhagwaQUAD and "#Sanghi Australia", suggesting that Albanese attended the recent quad meeting wearing the saffron scarf.
Fact Check
Fact Hunt did a reverse image search with the viral image to find a news report from May 19 by abc news. The report states that then Prime Minister Scott Morrison and then opposition leader Anthony Albanese wore a saffron scarf with the symbol of VHP when they attended separate events arranged by the Hindu Council of Australia (HCA) as part of an election campaign to gather votes from the Indian diaspora. The exact dates of the events are not mentioned in the article, but it is said that the photos were taken "earlier this month." The viral photo was featured in the article as well.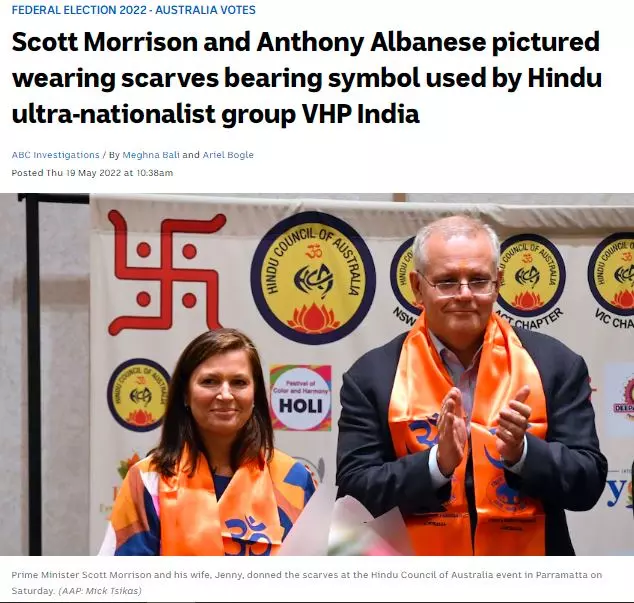 The Australian federal election, which decides the next Prime Minister of Australia, was held on May 21. Albanese eventually won the elections, taking oath as the new Prime Minister on May 24. Therefore, the viral photo from before May 19 could not be from the oath-taking ceremony. Likewise, the Quad Leader's summit is being held from May 23 to May 25, which means that the photo could not have been from the Quad summit either.
A video of Albanese attending the event can be seen here.
No saffron scarf was seen in the footage of the oath-taking ceremony.
In conclusion, Australian PM Anthony Albanese did not wear a saffron scarf while taking an oath or at the Quad Summit. Albanese wore the scarf while attending an event by the Hindu Council of Australia as part of his election campaign to gather voters from the Indian diaspora.